The Shotgun Range includes one International Bunker Trap, three American Skeet fields and one American Trap field. Up to 7.5 shot ammunition may be used on this range – no buckshot or slugs. The Club provides clay targets for members and guests at $4.00 a round (25 targets) or $3.00 per round if buying prepaid card of 10 games for $30.00. Members or guests may not use their own targets. A patterning board is available on the far end of the range adjacent to the International Skeet field.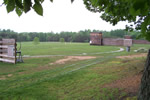 The Skeet and Trap fields are used for recreational fire and competitions and are available through the QSC Operations Officer.
The Shotgun range is for shotguns only.  We allow .410 chambered "Judge."  However, this requires special consideration prior to being able to shoot it. Contact QSC Operations Officer for further information. 
 Please download the following document MCBO 3570.1A  for Range Regulations.