The Competition pistol range is a 25-yard pistol range. Cartridges authorized: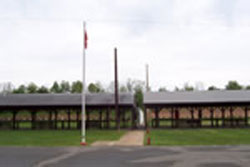 .22lr
9mm
.38 special
.45ACP
The Competition Pistol range is used for competitions and is available through the QSC Operations Officer. 
No weapon shall be taken up to the firing line unless the rounds for which that weapon is chambered are authorized to be discharged on that range at that time.  We can discharge revolvers and semi-auto pistols as long as they are chambered no hotter than .45 ACP.
Please download the following document MCBO 3570-1A for range regulations.